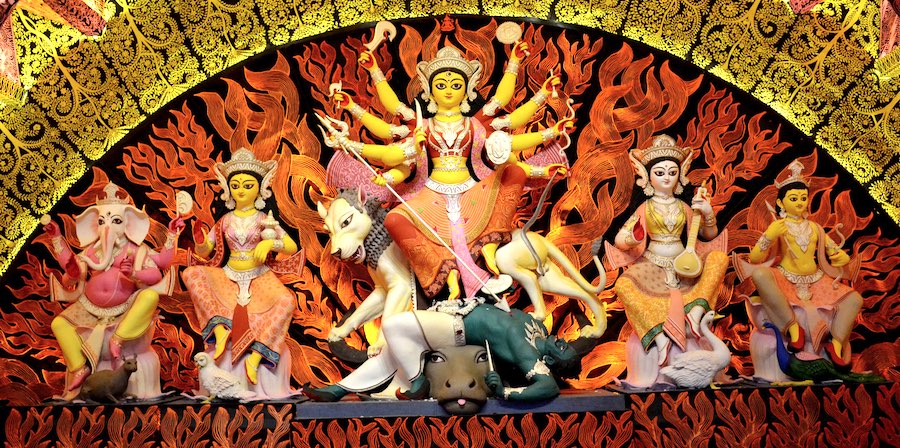 Picture: Biswajit Dey
Durga Puja is a Hindu festival celebrated all over India, especially in West Bengal and Tripura. Durga Puja in Bengal, Dussehra and Navaratri in other parts of India, celebrate the universal resurgence of the power of creation over destruction. The story goes that Mahisasur, the Buffalo Demon, ravaged the earth and was invincible. The God, in dismay, combined their powers to create a beautiful maiden, and each placed his or her most potent weapon in one of her ten hands. Her return each year in the Bengali month of Ashwin (September-October) commemorates Rama's invocation of the goddess Durga before he went into battle with Ravana. The traditional image of the Bengali Durga is similar to the Durga of Aihole and of Mahabalipuram (seventh century).
Durga Puja is ushered in on Mahalaya, the first phase of the waxing moon in Ashwin. Thousands offers prayers to their ancestors at the city's river banks. A special pre-dawn program with hymns and songs welcoming the goddess are aired through radio. The joyous atmosphere builds up the drummers from the countryside gathers around the city. They beat their feathered drums to attract community puja organizers.
The first recorded Durga Puja seems to have been celebrated by Bhabananada, the ancestor of Maharaja Krishnachandra of Nadia, in or about 1606. In those days the Puja was a grand but private affair. The family puja of Sabarna Choudhuri of Barisha dates back to 1610. Durga Puja broke free from the pillared cortiles at Guptipara in Hugli district when twelve angry young men were stopped from taking part in a household puja. They formed a twelve-man committee, which held the first public or community puja by subscription. Hence such pujas came to be called baarowari (baaro – twelve, yaar – friend). The date of this estimated to in the year of 1761, but records are scant and the date controversial. The word sarbojonin (for all people) came to be substituted for baroyari in 1910. The first community puja in Calcutta was held at Balaram Basu Ghat Road at the same year.
After his victory of Palashi in 1757, Clive wanted to throw a grand thanksgiving service, but the only church in town was destroyed by Siraj-ud-daula the year before. Nabakrishna Dev, a follower of Clive suggested to offer thanks at the feet of goddess Durga at his family puja. The Durga Puja at 36 Raja Nabakrishna Street is still referred to as the Company Puja. This event set a pattern which became a fashion and status symbol among the local merchants and landlords. The number of British people attending the family puja became an index of prestige. Since then, Durga Puja has transformed into the greatest show for the Bengalis.
Today, Durga Puja is a unique festival with artistic pandals (temporary structures) built with extremely skillful craft, elaborate lightings, gorgeous interior decors and the idols made as timeless piece of sculpture.
Durga Puja schedule of 2019:
| | |
| --- | --- |
| Date | Description |
| Sep 28 | Mahalaya (the eyes on the idols are drawn on this day which is a ritual called 'Chakshudaan') |
| 4 October, Friday | Sasthi (the 6th day, on this day the face of the idol is unveiled and the custom is known as 'Bodhon') |
| 5 October, Saturday | Saptami (the 7th day, the puja starts) |
| 6 October, Sunday | Ashtami (the 8th day, devotees fast on this day, at the end of the day at the time when the 9th day starts, the auspicious sandhi Puja happens) |
| 7 October, Monday | Navami (the 9th day, final day of the puja) |
| 8 October, Tuesday | Biyaya Dashami (the 10th day, the Goddess supposedly returns to her abode,  women offer apply vermilion on the idol's feet and then on each other. |